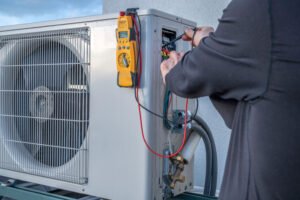 Many times, a mini split system is going to provide years of good function and reliability, keeping your home comfortable while it does so. It is not uncommon for there to be a need for repairs, though. Oftentimes, these systems, which do not have ductwork, need a bit of consistent care to ensure they are running at their best. When they fail to work or they begin to develop problems, it is helpful to have a repair technician out to inspect and troubleshoot the problem. If you need mini split repair in Toronto, don't put it off.
Common Problems
The following are some of the most common reasons for mini split repair. If you are experiencing these problems, schedule repair.
#1: New, louder sounds
You may notice that the system seems to be running louder than it used to. Most of these systems are very quiet when operating at their best. If you hear a clicking sound, that could be the plastic housing expanding, which isn't a problem. However, if you hear gurgling or a cracking sound, that could be due to ice buildup. Pay attention to these sounds. If they sound different, that's a reason to get repairs.
#2: Water dripping
If your system is not draining water properly or is dripping, that could be an indication there is a problem with the condensate drain. Other times, the drain line itself could be clogged. It could be clogged with debris, but it is somewhat common for mold buildup in this area to occur as well. This causes the water to backup into the system. Don't put off this need for repair.
#3: Not blowing cold air
When you use your mini split system, it should blow consistent, cool air. If it is not doing that, it may have a refrigerant leak. In some situations, it may be due to a clogged filter. However, if there is no cool air, that typically means there is no refrigerant present.
#4: Smells and odors developing
Another potential concern is the development of strong odors coming from the system. If there is a musty or mildew smell, that could be due to mold development in the system. You may also experience a sweet smell. That could be an indication that the refrigerant is leaking at some point. If you smell a stronger, burning scent, that could be related to your electrical system.
#5: It does not turn on
It is not common for a mini split system to just not turn on or to turn off and on several times. If that is occurring, it could be due to a more significant level of damage to the system or the electrical system. You will need a repair technician in this situation.
Calling a Technician Can Ease Your Mind
Getting mini split repair in Toronto is easy to do. With the help of the team at Climate Experts Heating & Cooling, you can rest assured your system can be back up and running in the most efficient manner possible. You do not need to put off these repairs. Call us instead.