Infloor Heating services in Whitby, Pickering, Oshawa, Ajax, Durham & the gta
Call Us To Get It Fixed Now! 1-855-241-7171

Enjoy a totally quiet and efficient heating system by installing in floor heating underneath your floors. A more hygienic way of heating than conventional methods, heated floors don't run the risk of circulating air or dust. Dust mites and creepy crawlies will also find that this type of system makes their environment too warm and dry to breed in, thus eliminating house pests. Not only does in floor heating provide flexibility in temperature (comes with dedicated thermostat and slab sensor), but heated floors can be easily installed for almost any floor surface.
Space Saving
Once a radiant floor heating system is in place, there won't be any heating units visible along the baseboards of your wall, and no air vents will be seen from anywhere in your rooms. With infloor heating, water piping is installed under a variety of floor coverings such as natural stone, hardwood and ceramic tiles, so you'll experience ease and space when placing furniture items and curtains around your home.
Comfort Everyone Loves
Calm and serene, heated floors are inaudible, with no motor or fan attached. Instead hot water piping emits rays in all directions and allows furniture and people in its path to absorb its radiated heat. This means there won't be an accumulation of heat near your ceilings because the air isn't actually heated. In floor heating offers a unique heat sensation that can be felt equally from anywhere within the room.
Types of in floor heating
Staple Up in floor Heating
Staple up in floor piping is used when installing in floor heating is not feasible to be done above the sub floor. It is common for homes that wish to have in floor warming but do not want to disturb the finished floors above. Staple up in floor warming is also common practice to maximize ceiling height or reduce the weight being added to the sub floor above. Staple up is typically installed using 3/8" onyx water piping stapled below the sub floor and insulated with reflective bubble wrap and R12 Roxul insulation below. This piping layout can be designed to have multiple thermostats with slab sensors to have a different temperature setting based by floor, living space or room.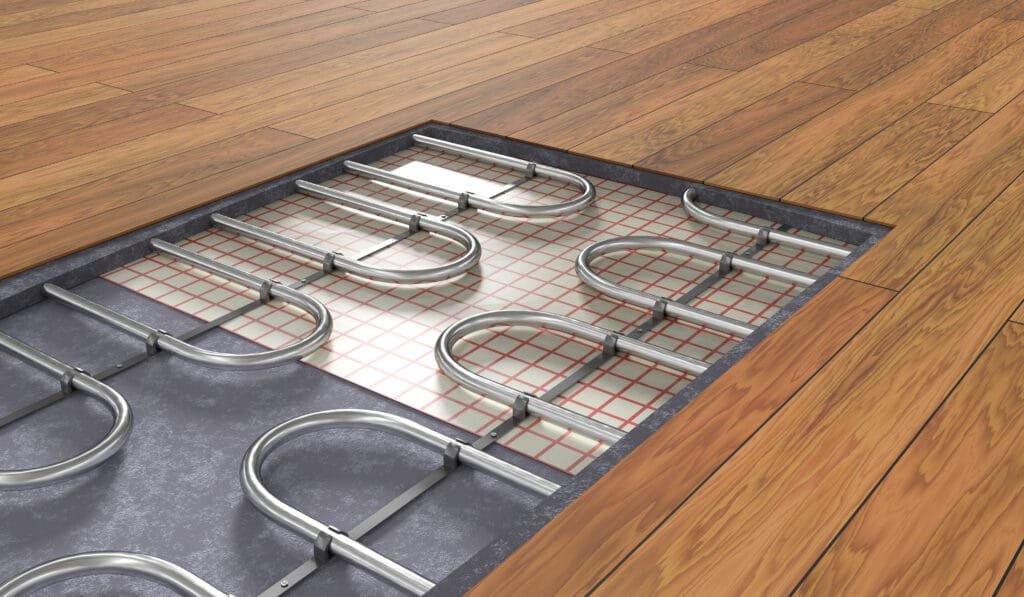 Staple Down Heating or Low Mass Radiant
Staple down in floor heating is used normally installed during a large renovation or new build. The ½" Watts Pert water piping is stapled directly to the homes subfloor in a designed loop layout to accommodate the heat loos for each room. This piping layout can be designed to have multiple thermostats with slab sensors to set a different temperature by floor, living space or room. After the piping is stapled to the subfloor it is typically covered up by a gypsum over-pour which allows the piping to now be one thermal mass with a perfectly level surface. After the gypsum over-pour has cured and been sealed you may install your choice of finished flooring on top.
There are also many different products on the market if the gypsum-over pour is not the right fit for the job. These products such as Warm Board allow the tubing to be pushed into pre-routered loop layouts accommodating a shallower floor installation, increased reaction time and a more even temperature distribution throughout the area.
In Slab Heating or High Mass Radiant
In slab heating is used during the basement floor pouring process. This is the most convenient time to add in floor heating to your basement. This can be done in new construction, under pinning a basement or reinstalling the basement slab. Depending on how your basement is being insulated would depict the installation process. You may install foam insulation panels that are designed to lock together with clip in grooves for the ½" Watts Pert tubing allowing for custom piping loop layouts. If the basement is insulated with rigid Roxul insulation then wire mesh would be required to attach the piping to with zip ties. When you either use rigid foam board or 2-pound spray foam insulation we may eliminate the need for wire mesh and use a foam stapler to attach the in-floor piping directly to the foam insulation. After the piping is pressure tested then the concrete floor may be poured as usual.
To learn more about floor heating systems and installation, connect with us online.
Features:
Superior all around comfort
Ultra-quiet heating
Doesn't take up any wall space
A more hygienic way of heating
Can be installed on most floor surfaces
Flexibility in room temperature
Unlimited thermostats or zones
Up to 30% more efficient then forced air
Flexible system add on and expansion
Call us today for a FREE estimate, 1-855-241-7171. 
Natalia Reis
February 6, 2022.
The service was great. The technician came in and resolved the issue quickly
Otis Sutherland
February 4, 2022.
Our furnace was blowing cool and they came when they said they would come and they sent text updates about when they were coming. When Robert got here, he was super knowledgable and was able to pin point the problem right away. If I ever do need someone again for heating or cooling problems, I'm call these guys first!
Richard Rainford
February 4, 2022.
Climate Experts were on time, courteous and got the job done.
Paul Aiello
February 3, 2022.
Excellent service on my boiler!
S Rayat
January 31, 2022.
Climate Expert are Expert in their business and Also expert in helping clients 'in desperate need, Robert was so helpful that he gave phone number of technicians that may have part in trucks and fix my furnace right away. When that didn't work, he got the part and fix my furnace in the heaviest snow fall this year. And I was very happy with comparable price plus quality of work. Thanks from Surjit Singh.
Brian Saville
January 28, 2022.
I would like to thank Climate Experts for a speedy diagnostic and repair of my humidistat.I was having an issue with the humidistat no turning on when the furnace was on. The tech found the issue within 10 minutes and had it repaired. The problem was the electronic controller board, which he said you don't need, and bypassed it and wired the humidistat direct to the furnace. After that, it worked perfectly, he also adjusted the water flow and now I don't get banging noise through the duct war when it comes on. He also took the time to explain how everything works. Great job. I would highly recommend Climate Experts to anyone having issues with any HVAC system. Now the house is very comfortable. The Tech was very knowledgable in HVAC systems, I would not hesitate to have them do any other repairs. Thanks you
Sheilagh McGlynn
January 28, 2022.
Climate Experts Heating and Cooling are wonderful to work with. They have great staff and are always responsive. I highly recommend!
Besh Mik
January 28, 2022.
The Tech came on time and ensure the gas leak was fixed. Made sure the furnace is running back up. They submitted all the red tags that Enbridge put on my house. I do recommend thier professional services.
Sharon Dunsmore
January 25, 2022.
My furnace broke down on one of the coldest days of the year. Robert at climate expert came out to have a quick look to see if it was fixable on the spot. It wasn't so promised to get the parts or a new furnace by the next day. I decided to buy a new furnace and they had it in and installed exactly as they said. While not a great experience to have to buy a new furnace, the service was tremendous. This is not the first time I have used this company and certainly if I have any other needs will go back to them. And highly recommend them