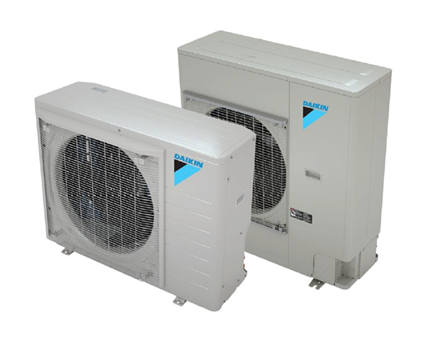 Whole House Heat Pump – Inverter. Daikin FIT system is designed to FIT comfort, space-saving, and efficiency requirements with ease. Features:
Daikin variable-speed swing compressors
High-density foam compressor sound blanket
Compatible with Daikin One+ smart thermostat and other Daikin communicating equipment
Daikin control algorithmic logic
Intelligent Defrost Mode
In communicating mode – only two low voltage wires to outdoor unit required
Diagnostic indicator lights – seven-segment LED display – and fault code storage
Daikin Inside intelligence for diagnostics
Field-selectable boost mode increases compressor speed during unusually high loads
Quiet DC outdoor fan motor
Field-installed bi-flow filter drier
Coil and ambient temperature sensors
Suction pressure transducer
Sweat connection service valves with easy access to gauge ports
Advanced water-shedding drain pan
Hot start technology
AHRI Certified – ETL Listed
Complete warranty details available from your local Daikin manufacturer's representative or distributor or online at www.daikincomfort.com.