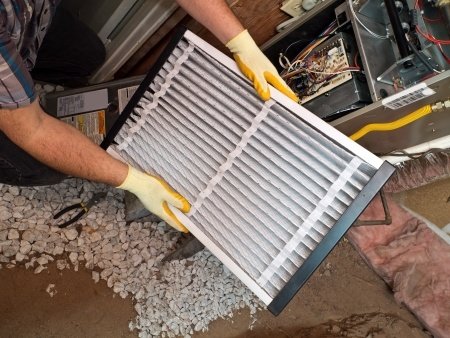 Many do it yourself home repair projects are easy on your time, wallet and your skills. Changing your home's furnace filter is one project that you can do on your own, and won't even take up an entire Saturday morning.  
Since the changing the filter is critical to furnace maintenance because it keeps it running efficiently and adds to the life of the furnace, it is worth learning how to install a furnace filter. Here are the steps you need to install yours. 
1. Choose a new filter
Before you think about how to install your furnace filter, decide on the type of new filter that you want. The purpose of the filter is to protect the motor from dirt, so a disposable fibreglass filter with pleats will do. But there are other options to consider. 
You can choose filters that remove even more dust, pollen, and other particles from the air. These filters are electrostatically charged. Or you can select thicker filters that are more durable, remove even more particles and are more expensive. You can discuss the best options for your furnace with your furnace repair and replacement company.
If you are unsure of the size of filters required, there should be a sticker either on the furnace or in the filter casing that gives you the measurements. 
2. Find and remove the filter
Take a minute and familiarize yourself with your furnace and find the filter. The filter is located in the filter air box in the cold air return duct. The cold air return duct should be toward the bottom of the furnace.
Once you find the cold air return, look for the filter casing. How you install a furnace filter will depend in part on how the filter is attached. The filter will be either behind a small door, or it will be visible because it slides into a slot.
Turn your furnace off as a safety precaution, then remove the old filter. 
3. Switch out the filters
Once you find the filter, either open the door and take it out, or slide it out of the area holding it. 
When putting in the new filter, it will have arrows on one side that line up with the air flow. To make it simple, the arrows should be pointed toward the furnace. So slide or place the filter, arrows facing the furnace, into place. 
Follow these steps to ensure that your filter change was done correctly. A filter incorrectly put in can restrict the flow of air and force the furnace to work too hard. Check your filters monthly and replace them when dirty.
4. Turn on the furnace
Once the new filter is in place, turn the furnace back on and you're finished!
If you have any questions about how to install a furnace filter, or you would like an appointment for furnace repair or replacement, please contact Climate Experts.