Gas Furnace Repair, Installation & Maintenance Services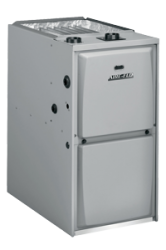 Furnace Installation:
Ontario winters can chill you to the bone; having a quality, reliable furnace can make a world of difference in keeping you and your family comfortable throughout the colder months. With a line of cost effective and energy efficient furnaces from leading brands that you can trust, Climate Experts can help you equip your home with a powerful heating system that lasts.
Prior to installing your furnace, we order a custom sheet metal taper and boot, conformed to your new furnace to conceal the existing patch work, tape and screws. Each furnace installation service is customized to your needs, with the goals of reducing air leaks, ensuring the most cosmetically appealing result, and to reduce the overall noise of the unit.
Our team of experts take the time to inspect each component of the furnace that we are installing, and we will supply a new filter rack or, if purchased, are happy to install a 7" healthy climate media air cleaner. We install the venting, gas pipe, electrical and drains to code and in the least invasive way to your home. We are vigilant in regards to placement, operation and cosmetic appeal.
Upon start, up we run your furnace to ensure it is functioning in accordance with the manufacturer's specifications. Our Furnace Installation price includes the job from start to finish, along with the removal of old equipment and materials. As part of our commitment to transparent service, you'll be happy to find no hidden costs or fees with our quotes. We back our furnace installations with a warranty of 10-year parts and labor with annual maintenance.
Furnace Repairs:
The last thing you want in the middle of winter, is a furnace on the fritz! Thankfully, the Climate Experts team is available 24/7 to offer fast, effective service for Furnace Repairs. Our Licensed Technicians are on call, day and night, and are skilled and experienced in furnace repair procedures for all major makes and models.  Using the latest tools and technologies, we provide quick and timely quality service at a fair market price.
Climate Experts stock an extensive selection of furnace replacement parts to ensure you're out of the cold and back to cozy in as little time as possible!
Furnace Maintenance:
Climate experts believe that the best way to avoid costly furnaces repairs is with regular maintenance. We not only clean your furnace but also run through a thorough checklist to ensure all you furnace controls, safeties and parts are working safe and efficiently.
As well as making sure that your furnace is heating your space effectively, furnace maintenance is important in ensuring the safety of your family, particularly if anyone in your family has respiratory issues or a compromised immune system. During the furnace maintenance service, we use a combustion analyzer to check appliance combustion efficiency, and measure Carbon Monoxide, and Noxious Gases, to ensure that the quality of the air is not impacted.
To maximize the life of your furnace, and prevent unexpected breakdowns, Climate Experts recommend that you receive a furnace maintenance service at least once annually, ideally prior to the winter. This gives you peace of mind that when the chill sets in, you're ready for it! Become a part of Climate Experts Maintenance Program Today!