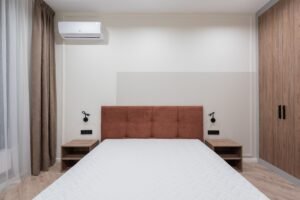 Is it time to upgrade your property's heating and cooling? If you are considering mini split installation, Oshawa homeowners need to determine if this is the right option for their needs and why. There are some core benefits to choosing this system for your home over others.
Why Choose a Mini Split?
A mini split system, sometimes called a ductless mini split or a ductless air conditioner and heater, is a unique system in how it functions. They are compact but provide a significant amount of power to them. In this system, there is an outdoor unit and an indoor unit. A compressor outdoors moves refrigerant through the lines from the outdoor unit to the one located on a wall inside the home. The refrigerant helps to pick up heat from the coil and then transfers that to the outdoor unit. The indoor unit blows comfortable air into the space.
What Are the Benefits of a Mini Split Installation?
Mini split installation can be an excellent choice for a few reasons:
It's affordable: Compared to large central air systems, a mini split is a fraction of the cost. That includes being more affordable to purchase and run.
It doesn't require significant construction: If your home doesn't have ductwork in place now, a mini split can be installed easily, while a ducted system takes a lot more in terms of time and construction cost.
It's efficient: The best mini split systems are highly efficient in the way they operate, keeping costs lower throughout their lifetime for heating or cooling the home.
They provide multi-zone control: You can use these systems easily to set different temperatures in various areas of the home.
Less dirt and debris: A minim split system does not cause the same build up of dirt and debris in the home and may help to reduce moisture levels more efficiently than other options.
A mini split installation in Oshawa may be the right decision for your needs, depending on the home's construction and your overall goals. It's important to get a custom estimate for this type of work to determine if it's the ideal choice for your property.
Learn More About Your Options By Calling Us Now
If you're considering a mini split installation in Oshawa, let our team help you. Climate Experts offers exceptional service at competitive rates. Call us now for a free estimate at 1-855-241-7171.