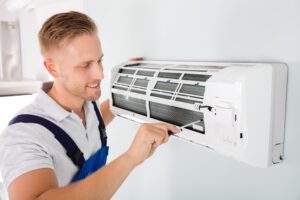 Would an air conditioner maintenance checklist help you? No matter what time of the year it is, your air conditioner (and often your furnace, too) are large systems that require careful consideration and maintenance to keep them operating properly. If you are unsure what steps you need to take to maintain your system, this checklist is sure to help you. Keep in mind that when it comes to air conditioner maintenance, Pickering homeowners can turn to a trusted technician to handle the entire process.
Before the Season
In the early part of spring and heading into summer, it is important to create a plan for maintaining your air conditioner. During this type, you need to consider the following steps:
Be sure your thermostat is working, replace batteries if needed, and set the temperatures. Do this now to help ensure that your system is ready for high heat.
Inspect all electrical connections. It is not safe for homeowners to do their own electrical work. However, you should inspect all electrical components now so that you can schedule repairs to any damaged or faulty electrical components. This could be a fire risk.
Check the condensate drain. This drain can become clogged, which can lead to water backup. That can also impact the amount of humidity present.
Lubricate all parts. All moving parts of the air conditioner need lubrication, according to the manufacturer's instructions. This helps minimize friction in the motor that can cause damage.
Control system inspections are needed. Your goal here is to ensure they are operating reliably and safely.
Monthly Tasks
Each month when you are using your air conditioner, it is helpful to engage in routine maintenance. A few simple things to do include:
Change or clean the air filters in the system. This can help to significantly improve your overall air quality while also reducing efficiency costs.
Listen to the system run. If it is making strange sounds or not operating the way it should, it may be time to make some changes.
Keep the evaporator and condenser coils clean. Monitor them throughout the year to ensure nothing gets caught within them.
Check your heating and cooling bills. If your costs continue to rise because you are using more energy, that could indicate that it is time to have a professional out to do the repairs.
Have a Professional Inspection Annually
Many of these tasks you can do as a homeowner. However, a professional inspection from a licensed professional is critical to have completed at least one time a year. This way, you may be able to minimize the need for repair calls and potentially extend the life of the system by catching problems early on.
Call to Schedule Maintenance with Our team
You do not have to do all of this work yourself. You can get air conditioner maintenance in Pickering to help you get your system back to working at its best in no time. Let us set up a time to come to your home for an annual maintenance appointment, or we can tackle the problems you're having. Call us to set up a time.