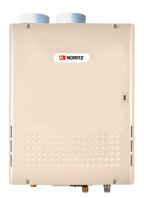 FEATURES
Built-in features include safety lock-out, freeze protection, and high elevation adjustment. These units also offer several innovations:
Condensing technology – The most advanced Noritz unit, over 93% efficiency level!
Combi-system set-up – Open loop system functionality for both potable water heating and space heating combination system.
Safety lock out – Default max. 120°F (refer to owner's manual for higher temp)
Dual flame burner – Noritz exclusive! Minimizes temperature fluctuations.
Fully modulating – Automatically adjusts burner level accordingly.
Dual heat exchanger – 100% stainless steel corrosion resistant heat exchanger fused with a commercial grade copper heat exchanger.
Turbo Flow – Up to 11.1 GPM @ 35° temperature rise (8.4 GPM @ 45° rise).
Quick Connect – Doubles output by connecting 2 identical units with a single cable.
Multi System – Up to 24 units can be linked and operated by a single system controller.
Direct ignition – No standby pilot light.
Thermal fuse – Automatic overheat protection system.
Resin coated PC board – Increases durability and protection from elements.
Automatic air regulator – Monitors internal temperature/maximizes burner efficiency.
Neutralizer included – Built-in neutralizing system for condensation.