Honeywell Whole House Humidifiers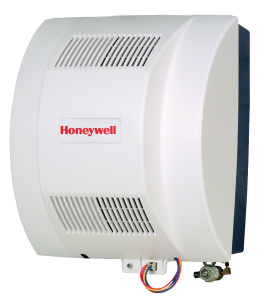 Keep home air quality at its best, and your wood floor and furnishings in their heathiest condition with a Honeywell Whole House Humidifier. Not only are Whole House Humidifiers one of the quietest, evaporative humidifier lines on the market, but Honeywell fan-powered models are known to be 20 Db quieter than most other competitive residential humidifiers. Whether you're dealing with the difficulties that come with dry skin and nasal passages, or rooms of your house are more humid than others, Honeywell Whole House Humidifiers come in 12 different models to suit your needs. For more information on features and affordable pricing, fill out our online form.
Models:
Bypass Drum Humidifier (HE120A)

Electrode Humidifier [with HumidiPRO™ H6062 Digital Humidity Control (HM700A1000)]

Bypass Flow Through Humidifier with Water Saving Technology (HE280)

Bypass Flow Through Humidifier (HE240)

Honeywell Steam Humidification System (HM609A1000)

Fan-Powered Humidifier (HE365A)

TrueEASE™ Fan-Powered Humidifier (HE300)

TrueEASE™ Evaporative Humidifier (HE100)

Bypass Humidifier (HE225/265)

H360 Power Flow Through Humidifier (HE360A)

Bypass Flow Through Humidifier (HE220)

Bypass Flow Through Humidifier (HE260A)
Call us today for a FREE estimate, 1-855-241-7171. 
Multiple links for each model: https://yourhome.honeywell.com/en/products/humidifier