VRV IV-S Series Mini Split Multi Zone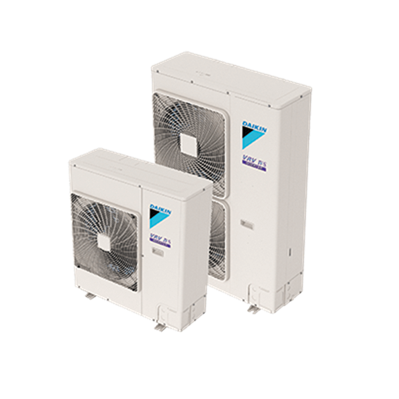 Whole House System – Inverter
Daikin's VRV IV-S Series is available in smaller 3, 4 and new 5-ton capacities with a 208-230V, single phase power supply.
Multi-zone solution for 2 to 10 zones
Provide individual zone control with room by room controllers
New! Variable Refrigerant Temperature
Features:
Condition up to 10 zones from one outdoor unit
Space-saving design and flexible indoor unit options offer quick and easy installation.
Silent operation ensures quiet comfort throughout the home
Single-phase technology is perfect for light commercial and residential applications
Smaller capacity allows for precise temperature control over every square inch of space
Superior energy efficiency results in lower operating costs especially under partial load conditions
Single-supplier reliability. The system – factory engineered and 80% complete upon delivery – is fully optimized by Daikin plus has self-Diagnostics and one of the best warranties in the industry
Straightforward maintenance and service with self diagnosis function.