IBC HC Condensing Boilers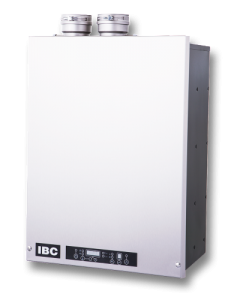 Compact and versatile, the HC Series boilers are optimal heating solutions with a slim boiler room footprint and full outdoor reset option. Not only are they contractor friendly and easy to install, but HC boilers include a built-in boiler pump and feature a unique single-pass copper/aluminum heat exchanger, which assures greater efficiency and eliminates water side corrosion. For more details on specifications and affordable IBC boiler prices, contact us online.
Models:
HC 13-50 — 13,500 to 51,000 BTU/HR
HC 23-84 — 23,000 to 84,000 BTU/HR
HC 29-106 — 29,000 to 106,000 BTU/HR
HC 33-124 — 33,000 to 124,000 BTU/HR
HC 33-160 — 33,000 to 160,000 BTU/HR
Features:
Reset heating
Built-in boiler pump
Simple installation
Includes air vent, outdoor sensor and relief valve
95 percent AFUE, with full ASME rated vessel
Innovative single-pass copper heat exchanger
10-year limited warranty
Call us today for a FREE estimate, 1-855-241-7171.