Nest Learning Thermostat, 3rd Generation (Works with Amazon Alexa)
High-res display with Farsight

Turns itself down when you're away.Bluetooth 4.0

Control from anywhere Remote control and mobile notifications require working internet and Wi-Fi.

Heating and cooling system alerts Alerts can notify you of a potential issue with eligible HVAC systems. They're meant to provide helpful information, and are not an endorsement, representation or warranty of any kind about the health of your HVAC system. Alerts are not intended to replace a diagnosis by a qualified HVAC professional.

Works with Nest Temperature Sensor
High resolution color screen: 24-bit color LCD, 480×480 pixel resolution at 229 pixel per inch (PPI), 5.3cm (2.08″) diameter.

Stainless steel ring

Sensors: Temperature, Humidity, Near-field activity, Far-field activity, Ambient light.

Built-in rechargeable lithium-ion battery.

Languages: English, French, Spanish, Dutch.
Connectivity requirements
Wi-Fi connection with Internet access.

Phone or tablet with iOS 8 or later, or Android 4 or later.

Free Nest account
The brighter way to save energy.
The Nest Learning Thermostat
A thinner, sleeker design. A bigger, sharper display. The 3rd generation Nest Learning Thermostat is more beautiful than ever. With Farsight, it lights up when it sees you coming and shows you the time or temperature from across the room. And the Nest Thermostat helps save energy. That's the most beautiful part.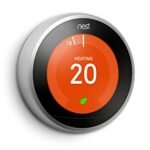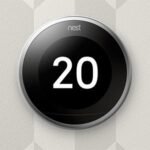 Saving energy starts with your thermostat.
Just turn it up and down. The Nest Thermostat remembers the temperatures you like when you're home, learns your schedule, then programs itself. And that helps save energy. With the Nest App, you can adjust the temperature at home from anywhere.
No more programming. With Auto-Schedule, Nest learns from you and programs itself.
Change the temperature from anywhere using your phone, tablet or laptop.
Nest can use sensors, algorithms and even your phone's location to save energy when no one's home.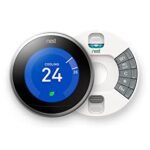 Fast set-up & installation
Most people install Nest in 30 minutes or less. And if you need it, our support team is happy to help.
Go to nest.com/ca/works to see if it's compatible with your system.