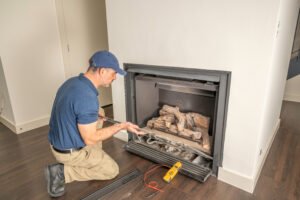 Are you and your home ready for a Toronto winter? It's important to make sure you have a reliable source of heat to warm your home throughout the coldest months of the year. Gas fireplace installation can be a creative process, but it's among the few home improvement projects that should be left to the professionals to execute. Read on to learn more about fireplace installation in Toronto and the greater Toronto area (GTA)!
Providing Fireplace Installation in Toronto & GTA
The professionals at Climate Experts Canada are trained in fireplace installation with professionalism, integrity and no shortcuts. Our heating systems are made with efficiency and long-term reliability in mind, so you can trust that our fireplace installations in Toronto and GTA will not disappoint.
100% Guaranteed Installation From the Fireplace Experts
When you choose Climate Experts to install your gas fireplace, your purchase is backed with a 10 year warranty on parts and labour with annual maintenance services. We love to help our customers keep their beautiful gas fireplaces in great working order for years to come. We pride ourselves on a 100% guaranteed installation from the Fireplace Experts – and if you're unsatisfied with any part of your fireplace installation, simply contact us and we will sort it out for you.
The Cost of Installing a Brand New Gas Fireplace
The cost of fireplace installation depends on a number of factors, including whether your fireplace is being built custom for the space or if it's been pre-fabricated. The average cost to install a new gas fireplace is $4,000 USD, or about $5000 CAD. You may be able to keep costs as low as $800 CAD, but depending on the features and level of customization you want, you could be looking at something as costly as $12,000 CAD. Regardless of your financial situation, the team at Climate Experts values you as a customer and will help you find a fireplace installation that suits your paycheque.
Does a Gas Fireplace Require Venting?
You might be thinking, Doesn't every fireplace need venting? Actually, gas fireplaces are becoming more and more popular because of the option to install a ventless gas fireplace!
Fireplace Universe explains it perfectly: "Natural vent gas fireplaces need to be vented using a traditional masonry chimney with flue liner, direct vent gas fireplaces need to be vented directly from the outside and ventless gas fireplaces don't need to be directly vented." Ventless gas fireplaces offer more versatility in terms of where you can install them, because they intake air from a home and exhaust it right back into the room. Without an external venting system, you can install ventless fireplaces virtually anywhere in your home!
Why it's Better to Choose the Fireplace Experts
Doing a fireplace installation by yourself (or even with a few extra hands) is a big job. Leave it to the experts so you can save your back and rest assured that your new fireplace will work safely and properly. The professionals at Climate Experts value high-quality, long-lasting installations and do not take shortcuts. It's best to choose the Fireplace Experts for your newest fireplace installation – save yourself the work and get the job done professionally.