Ductless Air Conditioner Installation & Repair, & Maintenance Services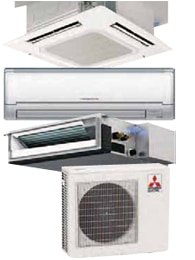 Ductless air conditioners, or ductless mini-spit systems, offer the dual advantage of being an affordable air conditioning and heating solution that allows you to control the temperatures in separate rooms or spaces.
These compact, yet powerful mini split AC systems, work by using a compressor to move refrigerant in copper lines from the outdoor condenser to the indoor wall hung head. The refrigerant picks up heat from the coil, transferring it outside to the condenser. Once the heat is picked up inside the ductless coil, this leaves the fan blowing comfortable air from the ductless head into the desired location.
No need to install intricate duct work into your walls or attic space; the installation process is non-invasive and easily reversible. As well as a simplified installation process, the absence of ducts in a mini-split air conditioning system means that there is less area for the collection of dirt, debris, and moisture (this is great news for allergy sufferers).  Ductless air conditioners are easy and affordable to maintain regularly, meaning that you and your family benefit from comfortable, cleaner air.
Ductless air conditioning systems not only come with a lower price tag, but also promise notable energy efficiencies. Since cooled air does not have to travel through a series of ducts, there is less energy required to push air through the system and regulate the temperature of your space. Enjoy the benefits of a refreshing indoor environment, and reduced energy bills!
Interested in purchasing a ductless air conditioning system? Check out Climate Expert's range of ductless air conditioning and heating systems from the most reliable manufacturers, including Mitsubishi, Lennox, Fujitsu, and Daikin. If you already have a ductless air conditioning system, read more to learn more about Climate Experts' full scope of services related to the installation, repair, and maintenance of your cooling unit.
Ductless Air Conditioner Repair:
Climate Experts offer quality service for Ductless Air Conditioner Repairs. Our technicians are factory trained on most major makes and models of Ductless Air Conditioners providing quality repairs at a fair market price. We use the latest tools and innovations to provide Ductless Air Conditioner Repairs in a quick and timely manner.
Ductless Air Conditioner Installation:
With a range of the leading ductless air conditioners on the market, you can trust Climate Experts to help you select a reliable ductless air conditioner that meets your needs and budget, keeping you comfortably cool all summer long. Whether you have recently purchased a unit, or are looking to do so in the future, our team of professionals is here to help with every step of your ductless air conditioner installation process.
Our ductless air conditioner installation process is thorough, yet efficient. Here is what you can expect as part of the installation process:
We recover refrigerant out of the existing unit in approved cylinders, careful not to release any refrigerant into the atmosphere.
The old condenser, line set and ductless head are removed, recycled and replaced.
We mount your ductless head with slope for proper drainage. *Doesn't need to be mounted on a slope
Outside, your condenser is either mounted on brackets to your home, or on top of a sound pad, which is like a patio stone that absorbs vibration to reduce noise.
We install the line set, drain and electrical components to code and in the least invasive way in your home. We also pull an ESA permit on every installation, to ensure we comply with Electrical Safety Authorities rules and regulations.
We pressure test, run a vacuum, charge and test you unit according to manufacturer's specifications.
With all ductless air condition installations, our Climate Expert team is vigilant in regards to placement, operation and cosmetic appeal. Our Ductless Air conditioner installation price includes the job from start to finish, as well as the removal of old equipment and materials. With Climate Experts' installation services, you can rest assured that there are no hidden costs and fees with our quotes. We back our Air Conditioner Installations with a 10-year warranty that includes limited parts and labor, with annual maintenance.
Ductless Air Conditioning Maintenance:
At Climate Experts, we believe that the best way to avoid costly Ductless Air Conditioning repairs or high hydro bills is with regular maintenance. We not only clean your Air Conditioning condenser, but run through a thorough check list to ensure your air conditioning unit is working safely and efficiently.  Become a part of the Climate Experts Maintenance Program Today!