HRV Lifebreath Ventilation System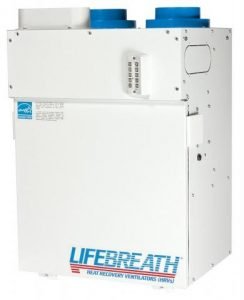 Global leaders in air-quality management for more than 30 years, the HRV Lifebreath Ventilation Systems are ideal for energy-saving air flow and freshness control. Featuring the HRV MAX and RNC Series – each ventilation model offers options like: easy-to-use speed ventilation, unique dual-stream airflow, simple installation and a digital control panel. For more information on lifetime warranty coverage, full specifications and affordable Lifebreath HRV prices, fill out our online form.
Features:
20 different HRV Lifebreath Ventilation System models to select from
Simple installation
Easy to maintain
Energy saving
Meets ENERGY STAR certifications
Lifetime warranty
Call us today for a FREE estimate, 1-855-241-7171. 
More than one link to HRV ventilation system models: http://www.lifebreath.com/resources/products/44