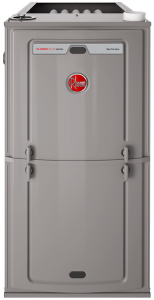 Offering a more reliable way to keep your home heated just the way you like it, the Rheem R95T features 360°+1 engineering, which assures optimal performance year-round, even in the coldest of temperatures. For most cost and energy savings, Rheem gas furnaces also include the exclusive PlusOne Ignition System to guarantee precise and quiet operations with minimum energy output. Learn more about affordable prices and specifications by connecting with us online.
Features:
95% residential gas furnace CSA certified
4 way multi-poise design
ECM motor
Exceptional and exclusive PlusOne Ignition System
PlusOne Water Management System
Call us today for a FREE estimate, 1-855-241-7171.