Daikin AURORA – Wall Mount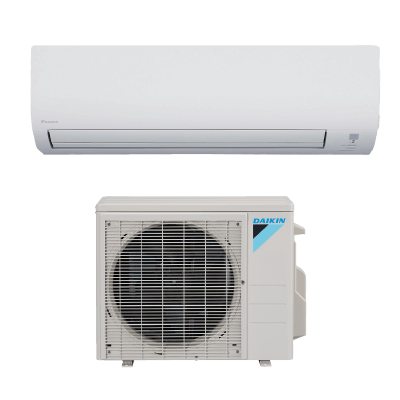 Single Zone Heat Pump
Discreet wall-mounted unit providing high efficiency and comfort. The smooth panel of the wall-mounted indoor unit allows it to blend in with any decor.
Up to 20.3 SEER
Up to 12.5 HSPF
R-410A Refrigerant Compatible
Features:
Energy Efficient – Up to 20.3 SEER / 12.5 HSPF / 13 EER for ultra-efficient cooling and heating operation and reduced operating costs compared to conventional lower-efficiency systems.
Advanced Filtration – Long life – washable filters.
Enhanced Capacity – Up to 100% Heating Capacity at 5°F (-15°C) and confirmed continuous operation as low as -13°F (-25°C) ambient temperature. Up to 100% Cooling Capacity at 104°F (40°C).
Program Dry allows humidity levels to be reduced.
Titanium Apatite Photocatalytic Air Purifying Filter – This filter combines the air-purifying filter and titanium apatite photocatalytic deodorizing filter in a single highly effective unit.
Hot Start. When the heating operation starts or when the unit changes from cooling to heating there is no cold draft.
Comfort Mode adjust the direction and airflow rate so that the air from the unit does not blow directly on the occupants of the room in cooling. When heating – the flap turns vertically downwards to drive warm air to the bottom of the room.
Pushing the POWERFUL button on the remote control gives you a boost in cooling or heating power for a 20-minute period – even if the unit is already operating at high capacity.
Anti-Corrosion Treatment on Heat Exchanger
Cold Climate Ready (continuous operation down to -13°F (-25°C))
Outdoor Unit Quiet Operation – When combined with FTX18/24 indoor units.