Viessmann Vitocrossal 300 CU3A Gas Boiler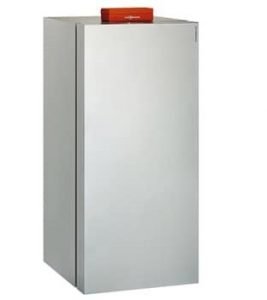 Designed with a unique combination of high-temperature capacity and high water volume features – the Vitoscrossal 300 is a slick, stainless steel heat exchanger and Matrix dome gas burner. Along with compact floor-standing design and high-efficiency of 95 percent AFUE, the Vitocrossal 300 includes a self-calibrating Lambda Pro combustion management system and ensures best combustion efficiencies, regardless of gas or air quality. Learn more about affordable Viessmann boiler prices by connecting with us online.
Features:
Extremely durable Inox-Crossal stainless steel heat exchanger
Multiple venting options, with vent lengths up to 180 feet
Multi-boiler installation with 8 boilers up to 1592 MBH
Compact, floor-standing design
MatriX dome gas burner with 5:1 turndown ratio for highest efficiency
Call us today for a FREE estimate, 1-855-241-7171.