NTI Trinity Fire Tube (TFT) Gas Boiler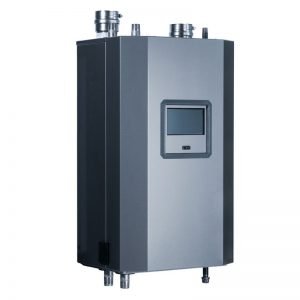 Made to comply with the utmost industry standards, NTI boilers are known for high-energy spark ignition and seamless ability to control three separate temperature set points. Designed with durable and modern looking stainless steel, trinity boilers can also be conveniently wall-mounted with optional floor stand, and come with Modbus capability and an easy-to-use self-diagnostic display panel. Learn more about NTI boiler prices and specifications by connecting with us online.
Features:
High-quality metallic clear coat finish
Easy to install and maintain
Ability to control three separate temperature set points
Freeze protection parameters
Warm weather shutdown
15-year limited warranty
Call us today for a FREE estimate, 1-855-241-7171.