IBC DC Duel-Condensing Combi Boilers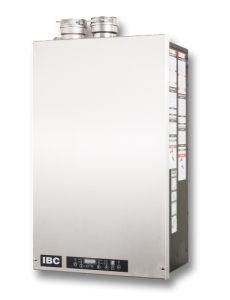 As unique two-in-one heat exchangers, Combi boilers merge domestic hot water and space heating into one compact design that saves energy significantly. Along with built-in boiler pumps and return sensor control, DC boilers feature convenient and efficient self-cleaning capabilities and self-draining vertical fin heat exchangers. Learn more about IBC DC specs and affordable costs by filling out our online form.
Models:
DC 23-84 — 23,000 to 84,000 BTU/HR

DC 29-106 — 29,000 to 106,000 BTU/HR

DC 20-125 — 20,000 to 125,000 BTU/HR

DC 33-160 — 33,000 to 160,000 BTU/HR
Features:
Self-cleaning, self-draining vertical fin heat exchanger
Solid 20-year track record
95 percent AFUE with full ASME-rated pressure vessel
Two independent copper coils embedded in a cast aluminum heat exchanger
Built-in boiler pump
Outdoor rest technology
10-year limited warranty
Call us today for a FREE estimate, 1-855-241-7171.