Ductless Mitsubishi FE & FH Series Heat Pump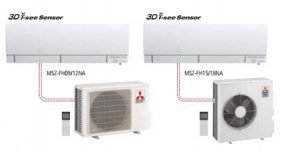 Step in from the cold to the warm comfort of the Mitsubishi FE & FH Series Heat Pump. Quiet, compact and easy to maintain, this Mitsubishi model includes 3D i-see Sensor technology and built-in auxiliary heater control. Not only can you effortlessly change your room temperature from a wireless remote, but this single-head heat pump offers Nano Platinum air filtration and auto change over between cooling and heating. For more information and details on affordable Mitsubishi heat pump prices, connect with us online.
Features:
Simple and fast Installation
Exceptional inverter technology
High-speed heating and cooling
Refrigerant pre-charged
Natural air flow
Wireless remote controller
A 10 year Mitsubishi warranty on all parts and compressors
Call us today for a FREE estimate, 1-855-241-7171.