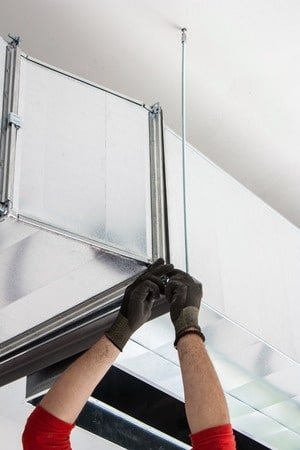 Owning an older home can be a joy for many homeowners. The sense of history and timeless design are just some of the reasons you may want to buy an older home. One common drawback is the installation of a central heating and cooling system, something not typical when the house was built. Where the issue arises is in the installation of ductwork into an older home. The reason for this is that older homes were not designed with ductwork in mind. This makes for an installation process that requires careful planning on your part. However, despite the hurdles, it is entirely possible to the process of installing ductwork come to a successful conclusion. What follows is a brief overview of different methods of installing ductwork and general advice on how to approach an installation.
The Drawbacks of Traditional Duct Systems
The main drawback of traditional methods of installing ductwork is the lack of space. The installation of traditional ductwork in an older house is time consuming and requires a professional to perform an effective installation. Also due to the lack of room, in most cases the ducts themselves have to be installed in the closets. Do note that even with these drawbacks a traditional duct system can be every bit as effective in an older home as it is in a newer one. You have to be realistic about the logistics of the installation process. While this method of installing ductwork can be done by a professional, you may want to keep your closet space. If such is the case there are alternative methods of installing HVAC systems in an older home.   
Ductless, Split-System Air-Conditioners
A ductless, split-system unit can prove a useful alternative to a traditional duct based system. These units don't require ductwork at all and offer several advantages, if you choose to make use of them. They tend to be quieter than normal units and they are easier to install and move around, offering for a degree of versatility in your installation. Due to their lack of ducts they tend to not lose as much cold air when in operation and they use less energy as well. The last advantage you may want to keep in mind is the versatility of usage a ductless system offers you. If you have a larger home you can install multiple units, allowing several different rooms of the home to be cooled individually. While they are highly useful split-system air conditioners have drawbacks as well. The focal issue is in terms of appearance, as they don't blend into a home as easily as a central air conditioning unit does.
As you can see, even in an older home you have options when installing ductwork. The traditional methods can still be used, provided you accept the tradeoffs that go with installation. However, if you feel this is too much of a compromise split-systems offer an interesting and useful alternative. No matter which way you choose to approach the question of installing ductwork, you need a professional to assure the job is done right. Climate Experts are true professionals and when you do business with us, you can rest assured you are working with innovative and highly trained experts. We can assist you in installing ductwork, split-systems, or repairing/replacing any existing ductwork you may already have. Call us today for a free estimate.