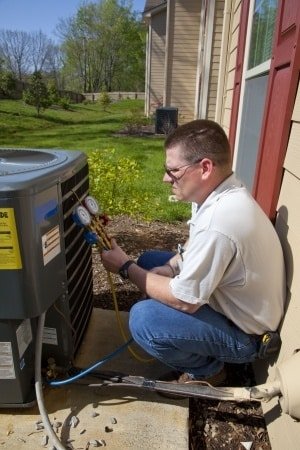 After the scorching temperatures of the summer months pass, most people simply forget about their A/C. However, in order for the unit to perform properly the next warm season, you should perform fall air conditioner maintenance.
Having air conditioner maintenance performed will save you money by preventing smaller problems from becoming more expensive problems in the future. At the same time, fall A/C maintenance will increase the efficiency of your unit. When you have the maintenance performed in the fall, you will circumvent the higher prices and long waits associated with scheduling maintenance during the peak seasons. After you have been running the air conditioner system all summer long, the following maintenance services will prepare your system for the upcoming months:
Thermostat Settings Check
To make sure your heating and cooling system is operating effectively, your technician should check your thermostat and ensure it is functioning properly. In particular, checking the thermostat will ensure the system saves energy and money when you are away and keeps your home cooled when you are occupying it. 
Electrical Connection 
As a safety precaution, your electrical connections should be checked and tightened during the fall air conditioner maintenance. In addition, the voltage and current should be measured on each motor in your unit. When your air conditioner has faulty electrical connections, it can cause your system to operate in an unsafe manner. In addition, it can greatly reduce the life of your vital components of the unit. 
Moving Parts
It's important to ensure all of the moving parts of your air conditioner are properly lubricated. When parts are not lubricated properly, they cause more friction and increases the amount of energy consumed. 
The Condensate Drain
To ensure your home has the proper humidity levels and to prevent water damage, the condensate drain in your air conditioner should be checked and inspected. 
System Controls 
The system controls of the unit should be checked to ensure it starts, operates, and shuts off as it should. 
Evaporator and Condenser Coils
After your air conditioner has run all summer, you should have air conditioner maintenance that includes the cleaning of your evaporator and condenser coils. When the coils are dirty, it greatly reduces the unit's ability to cool your home. As a result, your system will run much longer, which reduces the life of your equipment and increases the cost of operation. 
The Refrigerant Level 
To ensure the efficiency of your unit, the refrigerant levels must be checked and adjusted as needed. In addition, this practice will ensure the longevity of your air conditioner. 
Blower Components 
The blower components of your air conditioner are responsible for the proper airflow, which leads to optimum comfort levels. When you have your fall A/C maintenance, it is essential the blower components are cleaned and adjusted. If your unit is operating with dirty blower components, the efficiency of your air conditioner unit could be reduced by as much as 15%. 
Since purchasing an air conditioner is considered a significant investment, you should take every precaution to protect your investment. Simply put, having fall air conditioner maintenance is an essential step toward protecting your investment, saving money, and for optimal comfort next summer. To learn more about air conditioner maintenance, contact the team at Climate Experts and ask for your free estimate.